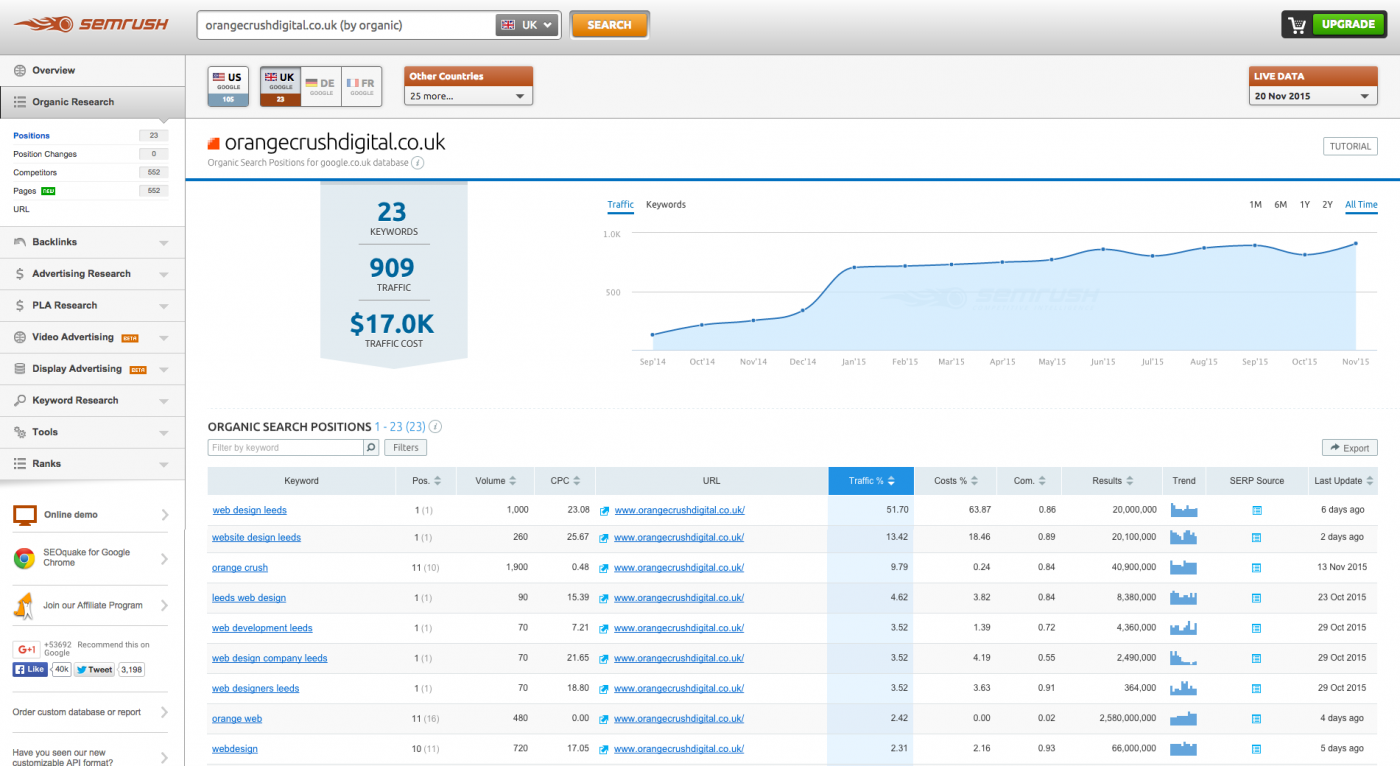 Let me start with an apology for what may appear to be a self-congratulatory, backslapping post. I suppose it is (a bit), but in this article, I'm using this website as an example of how consistent, steady SEO actions can not only bring in work through high search rankings but can also save a fortune in advertising fees.
For a business operating in such a fiercely competitive industry, we rank really well. We're up against some very good companies who know their stuff. It hasn't been easy and it has taken a long while to get to where we are, but for several months we've sat at the top of Google search returns for a number of prime key phrases, including Web Design Leeds, Website Design Leeds, Web Development Leeds and Leeds Web Design.
The accompanying image is a screenshot of an SEMRush report on this website. It shows an estimate of monthly organic traffic to be 909 visits. It's pretty close. This figure relates to organic traffic through Google alone and doesn't include visitors referred by Bing, Yahoo!, our social media channels or any other sites.
Whilst it's very satisfying to see ourselves at the top of the rankings, the most pleasing information comes from the cost-per-click values attached to these search terms.
The report indicates that if our site didn't rank well and we relied on Google Adwords pay-per-click to bring in this level of traffic traffic, we would need to pay around $17,000 per month in advertising fees – in real money, that's just over £11,100 – over £133,000 a year.
We aren't in a position to pay over £11k a month on Adwords fees. There aren't many businesses in our sector that could and we are at the top of Google rankings only as a result of working consistently on our SEO over many months.
I'm certainly not suggesting that paid advertising is a bad thing. Far from it. We're Google Partners and manage PPC campaign for our clients. It's a great way of pulling qualified prospects to your site.
I suppose the  point I'm trying to make is that small investments of time and money over a realistic period (months, not weeks) will pay huge dividends.
If you'd like to learn more about SEO, there are a number of articles in our blog that will point you in the right direction. There are other great resources arouns the web such as  Quick Sprout's Guide to SEO and  Moz's Guide to SEO
If you'd like to have a chat about search engine optimisation (without any obligation whatsoever) please call 0113 2515151 or email and we will get back to you.